Physician Formulated
Achieve the size that you always wanted.
Have the confidence and power to perform at your best. Take advantage of our risk-free, 30 day money back guarantee. We'll even cover the shipping!
Try Risk-Free
Raquel Pomplun - Actress / Comedian / 2013 Playboy Playmate of the Year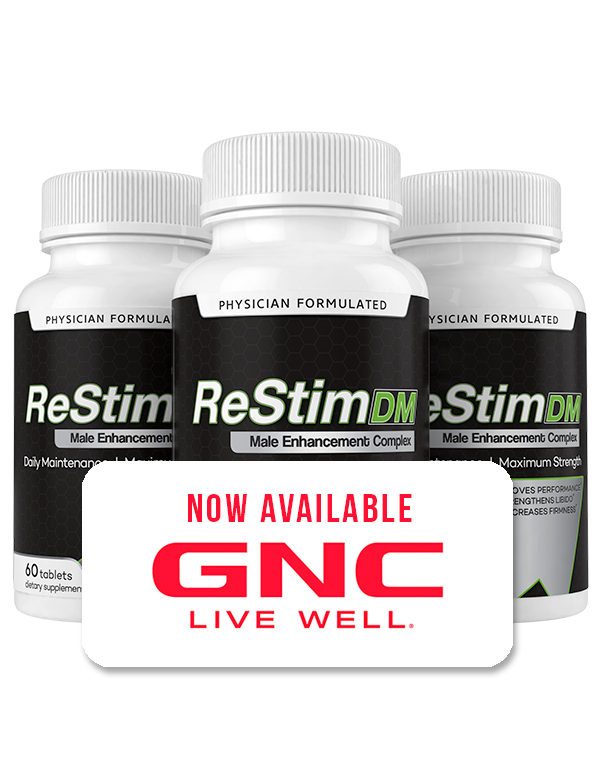 Now Available on GNC.com!
Super easy & convenient. Plus free shipping!
Improves Performance
ReStim helps improve libido & sexual function while boosting free testosterone levels. Improves sports performance as well.
Increases Bloodflow
ReStim is scientifically formulated with Enostim to assist in efficient blood flow enhancement as much as 50%.
Increases Firmness
ReStim helps to increase overall firmness, while helping facilitate androgen biosynthesis, and boosting healthy alpha pheromones.
LEARN MORE ABOUT RESTIM FROM OUR CUSTOMERS
RestimDM works magic...
I was immediately intrigued by RestimDM because my boyfriend doesn't need drugs, but he's always had a tough time keeping up. He always gets hard, but I've always wished he was harder. Not enough of an issue for me to admit it to him, but it was definitely on my mind. Obviously, I wouldn't want him taking anything dangerous, so I was pleasantly suprised to discover a product that claims to naturally boost testosterone, and increase hardness. After about 3 weeks, I can honestly say the difference wasn't minor. He's able to stay rock hard, and even after an orgasm, he reboots at a craze speed! RestimDM has given my love life an epic upgrade. Thank you.
Bigger, harder, thicker erections...
Intense orgasms and more volume to boot! Both my partner and I have thoroughly enjoyed ReStim...A+!!
Unbelievable size and girth...
I've tried many "male enhancement" brands, and none can stack up to ReStim. The difference is in the results. I just kept getting bigger and harder.
ReStim has breathed new life into my marriage...
I've had bigger, harder erections as well as a marked increase in libido. My wife's orgasms are out of this world!
Apr 24, 23
Sexual Performance Anxiety
Sexual performance anxiety or sexual anxiety is the fear of not being able to perform sexually, maintain an erection or...
View article